Minnie Driver Is Joining Our Flag Means Death Season 2, And Her Casting Could Represent A Major Step For The Show
Batten down the hatches! A new pirate is joining the crew!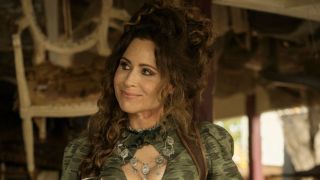 (Image credit: Nicola Dove/Max)
Our Flag Means Death takes the pirate genre and diversifies it in terms of race, ethnicity, gender identity, and, of course, sexual identity. However, Season 1 does lack in one area: female pirate representation -- aside from Spanish Jackie (Leslie Jones), that is, but she spends most of her pirate days commanding over her bar instead of a ship. However, Spanish Jackie's reign as the only female pirate on the show is going to end when Season 2 makes landfall in October, as Minnie Driver is set to join the crew of one of Max's best original shows.
Vanity Fair broke the news about Driver on August 24, with an exclusive first look at the highly anticipated second season of Our Flag Means Death. The article, which teases what's to come in Season 2, revealed the news of Minnie Driver's guest star casting as real-life Irish pirate Anne Bonny, and this could represent a major step for the show.
The Real Life Story Of Anne Bonny
While it's true pirating was mainly a man's world, the truth is that there were a handful of real women pirates in the age of piracy. One of the most well-known female pirates was Anne Bonny. She came into the job by way of her husband at the time who moved them from South Carolina to Nassau, Bahamas — a place known for its pirates. While there, she met notorious pirate Calico Jack, and she later befriended another female pirate, Mary Read.
The three of them were later captured and sentenced to death. While Calico Jack was executed, Bonny and Read's executions were delayed after they both claimed to be pregnant, though they were still kept as prisoners. Read ended up passing away in her cell. As far as Anne Bonny is concerned, there is no record of her execution or of her release. She simply vanished from history.
How Anne Bonny Fits Into Our Flag Means Death
Details about how exactly Anne Bonny will fit into the world of Our Flag Means Death are being kept under wraps. However, many fans expect creator David Jenkins to take inspiration from the real-life story and embellish the rest to fit the show's narrative. This is logical, considering he did this with the main characters Stede Bonnet (Rhys Darby) and Ed Teach/Blackbeard (Taika Waititi).
There's no telling how or why Bonny will cross paths with Stede and/or Ed because her real-life pirate connection Calico Jack (Will Arnett) is already dead in the show. Perhaps, she'll seek them out to get revenge for Calico Jack's death. Or, maybe, she'll become a helpful guide for Stede who, at the end of Season 1, is left searching for Ed. The possibilities are simply endless.
What Anne Bonny's Addition Could Mean For The Future
While Anne Bonny is arguably the most famous female pirate of all time, there are a handful of others that exist. Including, her real-life friend Mary Read. Given the show's affinity for LGBTQ+ romances, fans are interested to see if the writers will touch upon the possibility that Bonny and Read were more than just friends.
The one thing that is certain, is that the addition of Bonny definitely opens the floodgates for more women pirates, both real and fictional, to join the ranks of the Our Flag Means Death crew. I, for one, am certainly hoping viewers fall in love with Minnie Driver's Anne Bonny, and then we get even more women pirates if the show gets picked up for a third season.
Or, maybe the creative team behind the show will surprise us and they already have more women pirates waiting in the wings. Maybe, Anne Bonny will commandeer an entire ship of women! That certainly would shake things up and allow the show to finally represent women more broadly. After all, they did reveal that Ruibo Qian is joining the season as the mysterious merchant Susan, perhaps she's a secret pirate too. Whatever the case, I will certainly be tuning in to Max in October to check out Season 2 and cheer on Minnie Driver and Ruibo Qian.
The first season of Our Flag Means Death is streaming now with an active Max subscription. Until then, I'll be battening down the hatches and waiting impatiently for the exact release date of Season 2 to be released, which will be found on our 2023 TV schedule when it becomes available.
Your Daily Blend of Entertainment News