The Nun 2 Has Screened, And The Latest Conjuring Sequel Has Moviegoers 'Jumping In Their Seats'
First reactions are here!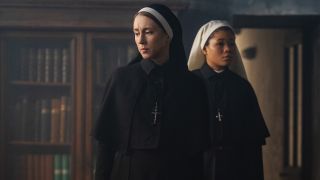 (Image credit: Warner Bros.)
It's been an exciting summer at the theater, with moviegoers having plenty of good options to escape from the sweltering heat. The end of the run of blockbusters can only mean one thing — the spooky season is upon us, and The Nun 2 is set to kick things off with a bang when it hits theaters September 8. The ninth installment in the chronologically confusing Conjuring universe has screened, and those who were able to get an early look at Taissa Farmiga's new horror flick are taking to social media with their reactions. It looks like audiences can prepare themselves for some pretty good scares this time around.
The Conjuring series is considered one of the best horror movie franchises, and The Nun 2 will try to add to that reputation. Taissa Farmiga is back as Sister Irene, and while we don't know if that means there will be a connection made between her and sister Vera Farmiga of the 2013 movie based on the real-life events of Ed and Lorraine Warren, what we do about The Nun 2 is that it's a direct sequel to 2018's The Nun. If these reactions are any indication, it sounds like a fitting kickoff to fall.
CinemaBlend's own Eric Eisenberg notes that The Nun 2 continues the franchise's trend of providing sequels that are better than their originals. In his words:
Cool trend that holds true for the Conjuring Universe: sequels tend to be better than the originals. The Conjuring 2 is better than The Conjuring; both Annabelle: Creation and Annabelle Comes Home are better than Annabelle; and now I can confirm The Nun 2 is better than The Nun. pic.twitter.com/ka78A4ggZtAugust 31, 2023
Shannon McGrew of NIghtmarish praises director Michael Chaves and Akela Cooper, who created the story and co-wrote the screenplay, saying there's a scene that will make fans "scream with joy/horror." September 8 better hurry up and get here, because she can't talk about anything else but this movie, she says in a tweet:
#TheNun2 is so extra and goes so hard that I'm now instantly obsessed and I will not be talking about anything else for the foreseeable future. Bravo Akela Cooper and Michael Chaves! pic.twitter.com/B66nSbiFQsAugust 31, 2023
BJ Colangelo of SlashFilm agrees with the others who saw an early screening that the sequel is better than the first movie, though there are some minor plot issues. Colangelo calls Bonnie Aarons a "treasure" and says the addition of Storm Reid (Euphoria, Missing) is a good one. The writer tweets:
While The Nun was too bogged down with lore, the upcoming sequel is way more fun, according to Tessa Smith of Mama's Geeky. Smith joins several others in imploring audiences to be sure to catch the mid-credit scene, writing:
The Nun 2 is infinitely better than the first film. It's scarier and much more intense. This is what I wanted out of the first one, which was too heavy and bogged down with lore. Now we get to have FUN with this terrifying villain. Stay for the mid credit scene! #Nun2 pic.twitter.com/DmXVGjtvi4August 31, 2023
In fact, The Hashtag Show writes that the mid-credit scene alone is worth the price of admission, which sets some pretty high expectations. They tweet:
#TheNun2 is a fun ride! While we still are in the world of religious lore, the film is filled with more fun and scares. The ending is satisfying, and the mid credit scene makes it all worth it. Definitely go see it. @thenunmovie pic.twitter.com/Ff5eyqpbtzAugust 31, 2023
Germain Lussier of Gizmodo agrees with others that Michael Chaves and company upped the scares for this sequel, and its two stories come together for an amazing third act. More from Lussier:
#thenun2 is a super solid horror sequel. It's got two good stories that intersect into a fantastic third act which is amazing until it loses focus just a bit right at the end. That misstep aside, it's got awesome scares, effects and Sister Irene is legit a legend. pic.twitter.com/cbb7hwfxLUAugust 31, 2023
Brian Davids echoes the thoughts of his comrades in terms of how the movie stacks up to its predecessor and says that The Nun 2 adds to the greater universe of The Conjuring in a big way in its exploration of Irene and Maurice. Davids tweets:
#TheNun2 is infinitely better than the first installment. The characters of Irene and Maurice are explored in a more meaningful way, and the greater Conjuring Universe is impacted rather significantly. pic.twitter.com/dh9vPWPuloAugust 31, 2023
Many moviegoers are describing The Nun 2 as "fun" with more scares and a better story that the first movie. This newest addition to The Conjuring franchise sounds like a good way for horror fans to kick off the scary movie season when it hits theaters on Friday, September 8. Be sure to also check out our 2023 Movie Calendar to see what else is coming soon, including all of the upcoming horror movies.
Your Daily Blend of Entertainment News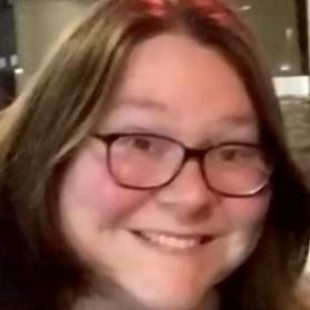 Mom of two and hard-core '90s kid. Unprovoked, will quote Friends in any situation. Thrives on New Orleans Saints football, The West Wing and taco trucks.