Why The Walking Dead's Spinoffs And Interview With A Vampire Are Able To Resume Production Amid Strikes
The zombies and vampires are coming back sooner than we thought!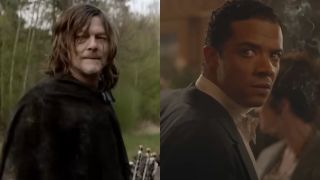 (Image credit: AMC)
As the SAG-AFTRA and WGA strikes rage on, movies and shows continue to get pushed to later dates due to the AMPTP's refusal to negotiate in good faith with the unions. While many fans have come to accept that they're going to be waiting months, if not years, for new seasons of their favorite shows, there is some good news in store for fans of three AMC Network shows. This is because The Walking Dead spin-offs Daryl Dixon and The Ones Who Live and Interview with a Vampire have both reached interim agreements with SAG-AFTRA to resume filming.
Deadline broke the news announcing that AMC Network has signed the SAG-AFTRA interim agreement, which allows the three formally halted productions to resume production. This interim agreement means that AMC Network agreed to all the terms SAG-AFTRA is currently proposing.
While the move is exciting for the actors involved in the shows, it could be met with some criticism as many industry members disagree over the benefits of interim agreements. Dan Signer, a WGA member and writer from shows like Lopez vs. Lopez, took to X (formally known as Twitter) last month to outline his thoughts on why interim agreements don't work in the long run:
I know you mean well, @sagaftra, but...Since these companies (streaming suppliers) get to rollback the terms of these agreements to those of the eventual one reached with the AMPTP, these deals hold no lasting benefit. The are not creating a floor. 1/5 https://t.co/273NO11aaHJuly 31, 2023
However, it should be noted that AMC Network appears to have only signed the interim agreement for these three productions, leaving the rest of its upcoming slate in limbo until the strikes are resolved. Although, AMC Network's CEO has assured fans that this is not going to happen anytime soon, because a lot of their upcoming series are completed.
In addition, AMC Network did not provide more details on the extent of what led to them signing the agreement. However, Deadline noted that the network "is what's known as an authorized company with regards to the AMPTP but is not among the studios involved in the negotiations."
Given AMC Networks is not one of the major studios negotiating with the unions, they were allowed to sign the interim agreement to restart production. It's unclear whether or not the move would have been granted had The Walking Dead spin-offs or Interview with a Vampire been produced by one of the major studios.
There are no set dates for production as of yet, but it's safe to assume that it will be sooner rather than later. Interview with a Vampire is slated to resume production of its highly-anticipated second season in Prague, whereas The Walking Dead: Daryl Dixon will start shooting its second season in Europe, and the cast of The Walking Dead: The Ones Who Live will return to recording booths to finish up post-production work, including ADR.
While it'll still be some time before the new seasons are released on AMC+, you can stream the first season of The Walking Dead: Daryl Dixon when it premieres on the 2023 TV schedule on September 10 and catch up on the first season of Interview with a Vampire with an active AMC+ subscription. Or, if you're not an AMC+ subscriber, you can stream Interview with a Vampire with a Max subscription from September 1 to October 31.
Your Daily Blend of Entertainment News